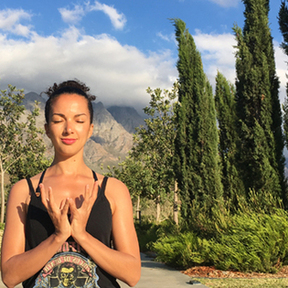 DEDDOU BURKHARD - Owner & Founder of POP UP YOGA
It was a lucky coincidence that Deddou stumbled upon a Vinyasa Flow class at Laughing Lotus Yoga Studio in New York City in 2009. It was love at first sight, a feeling of "coming home" so strong, that Deddou decided to complete her first 2 teacher trainings in this vibrant studio in the heart of New York City. Coming from a dancer's background Deddou was intrigued by the creative yoga flow sequences sprinkled with ancient yogi wisdome, the uplifting music, the dynamic and graceful yoga practice. It is exactly this essence that she brought home to Zürich and started sharing through POP UP YOGA.
"I love to fuse dynamic and dance inspired Yoga Flow elements with fundamental principles of therapeutic Vinyasa Krama to create an uplifting experience for a broad spectrum of yoga students." - Deddou, Yoga Teacher & Founder POP UP YOGA
Today Deddou is known as a passionate yoga entrepreneur, as well as a creative and experienced yoga teacher (800h YTT) in the local yoga community. She operates all things POP UP YOGA and teaches mainly in Zürich, but also in Zug, Basel, Lucerne and Bern. In addition to exciting collaborations and partnerships with brands such as Alnatura Schweiz, tibits AG, biomazing.ch, Focuswater, Kunsthalle Zürich, Manifesta 11 , Giardino Hotel Group, holistia and the Expo Livelife , Deddou is coordinating a donation based Charity Yoga called Guerilla Yoga Zug. Since 2017 Deddou is also the head-teacher and founder of POP UP YOGA's 250h Vinyasa Flow Yoga Teacher Training based in Zürich.
You can work with Deddou in private set-ups for one-on-one therapeutic yoga classes, but also in group courses, yoga retreats and workshops tailored to specific needs. Specifically for Corporates, Deddou put together a variety of workshops: meditation & mindfulness as a tool to reduce overall stress-levels, team-building yoga or office yoga.
Since January 2018 you can also practice with Deddou from your living room through her online Yoga classes. Learn from Deddou how to gain more strength in 7 Days, how to get more flexible or bring more balance into your office life with the "Office Yoga Course". Additionally you can book Deddou for online Yoga Coaching Sessions.
Keine gefolgten Personen