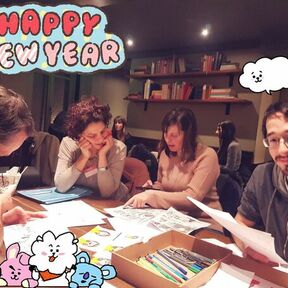 Hello there!
We, at Fun and Fruitful, host extremely fun and inspiring yet very affordable ;) workshops to boost your creativity.
All materials are included, and big discount awaits if you sign up for 4 or more sessions.
We helped software engineers, school children and creative professionals to think outside of the box and now we are here to help you find your most creative self!
We have courses for everyone:
Fun 101 is for absolutely anyone who wants to have some fun. Bring a child (4-12) for free! Requires basic understanding of English.

Wait, What? is for the ones that draw cartoons in class and tell jokes during breaks. You will exercise your creativity and humour muscles with words and pictures. Requires a fair understanding of English.

Tell Me More! is for the serious storytellers, the writers, the designers and the traders; it's for those who want to get their ideas/ messages across with words. Requires a good understanding of English.
Keine gefolgten Personen